From the 1st of November 2012 new car tyres must display a tyre label. This is ruled by European legislation, as specified in the European tyre labelling regulation (No. 1222/2009) that applies to private car tyres (C1), light van tyres (C2) and light commercial vehicle tyres (C3), with a few exceptions.
The intention behind this labelling is to increase both the economic and environmental efficiency of road transport through the promotion of safe, energy-efficient and low-noise tyres.
The compulsory tyre label must be displayed at the point of sale of all C1, C2 and C3 tyres manufactured from the 1st of July 2012 (DOT 2712). The label affirms how efficient, environmentally-friendly and safe the tyre is. This information can assist your choice in tyre.
However, only 3 performance criteria are listed on the label whereas there are in fact 50 performance criteria in place that assess tyre quality, for example: wear resistance (kilometre efficiency), braking on a dry road surface, braking on snow, braking on ice, noise levels within the vehicle, handling and aquaplaning.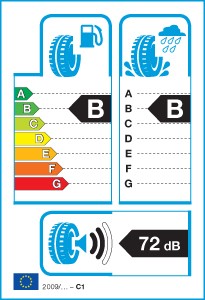 THE THREE PERFORMANCE CRITERIA ON THE LABEL
The tyre label indicates a value (category) for the following three criteria:
FUEL EFFICIENCY
7 categories, from G (the least efficient) to A (the most efficient). A vehicle's fuel consumption depends on factors such as engine type, speed, road surface type, weather conditions, etc. The rolling resistance of tyres is responsible for around 20% of fuel consumption. Reduced fuel consumption signifies lower fuel costs and less CO2 emissions. The difference between category A and category G can, for private cars (C1), amount up to 7.5%, and up to 15% for light commercial vehicle tyres (C3).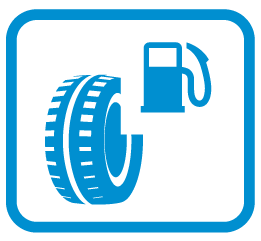 WET GRIP
7 categories, from A (the shortest braking distance) to G (the longest braking distance). A tyre's grip on a wet road surface can vary due to, among others: the vehicle type, weather conditions and the tyre profile. Good grip is vital in terms of safety. The braking distance of a category A tyre will in practice be around 18 metres (30%) shorter than a category F tyre, upon maximum braking.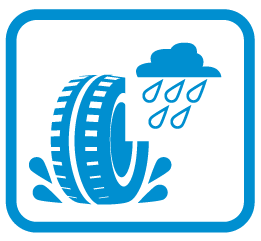 EXTERNAL ROLLING NOISE
3 external rolling noise classes. By external rolling noise, we mean the traffic noise caused by the tyre. With the exception of the noise level in decibels (dB), the illustration also indicates sound levels 1, 2 and 3: Level 1 – lower than the current maximum permitted value yet still above future European standards; Level 2 – between the future limit and less than 3 dB; Level 3 – more than 3 dB, under the future limit.
Please note: there is no link between external and internal rolling noise levels.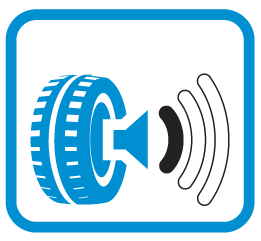 Refering to the Regulation (EC) No 1222/2009 we highlight the fact that actual fuel savings and road safety depend heavily on the behaviour of drivers, and in particular the following:
Eco-driving can signicantly reduce fuel consumption,
Tyre presure should be regularly checked to optimise wet grip and fuel efficiency performance;
Stopping distances should always be strictly respected.
Source: Regulation (EC) No 1222/2009 of the European Parliament and of the Council of 25 November 2009.
No rights can be drawn from the information mentioned on this page. We hereby exclude any liability.