Burn-outs, squealing tyres on the asphalt, dark tyre marks in every turn: The raw aesthetic born in Daytona, where NASCAR has its homebase. It really is impressive what the tyres at a NASCAR race need to be able to do and not do.
So why not meet the challenge with an official partner that equally embodies the American tradition, striving for higher performance and reliability together?
Euro NASCAR entered a six-year collaboration with General Tire to meet these demands. Admittedly, six years for a sponsoring collaboration is an unusual period in auto racing. But it does say a lot when you're talking about the trust Euro NASCAR puts in General Tire. In exchange for that, the brand has developed tyres that have already greatly exceeded the expectations of the 30 Euro NASCAR teams.
The specially developed "NWES GT" tyres have proven their power during the first tests. In classic NASCAR style, every vehicle has the same dry and wet versions of the tyre in the sizes 11.5/27.5R15.
Because: It can happen everywhere. From the Euro NASCAR race track to the meandering roads of Europe.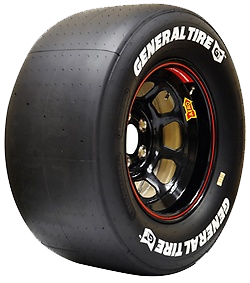 Winners on all tracks
NWES GT
Sizes: 11.5/27.5 R 15
Number of available sets per driver: 20

The tyres are specially designed in Plymouth, Indiana, keeping in mind the demanding NASCAR circumstances. However, the circumstances in Europe are different because European racetracks are usually circuits instead of traditional American oval tracks. Tyres need to be able to withstand all kinds of turns, while they also need to be suitable for various different types of asphalt circuits. Even the weather in the different countries needs to be taken into account in order to always keep the NASCAR cars safely on track.

In addition to the normal NASCAR race circumstances, such as distances and time, the weight and speed of the vehicle also need to be taken into consideration.